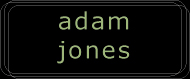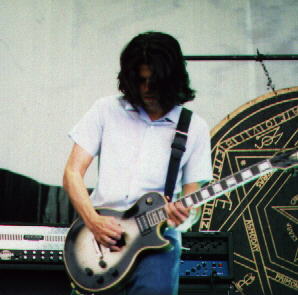 Birth Name : Adam Thomas Jones

Birthday : January 15, 1965

Quick Facts :
Adam has three dogs, two cats, and two pigs
One is on the back of the undertow CD case.
Is sculpting a piece for the cover of Peach's re-release of 'Giving Birth to a Stone'

Equipment :

Guitars Silverburst 1978 Gibson Les Paul , Seymour Duncan Jazz neck pickup in his guitars along with the SD JB bridge pickup.
Amps (heads/Combos) A vintage Marshall head, a non-master volume bass amp from 1976, Mesa/Boogie Triple Rectifier, a Diezel VH-4 head amp.
Effects Delay and EQ Effects Pedals An Epilady, a harmonizer, and an electronic string stimulator (EBow) on the beginning of 'Third Eye,' a Morely Wah pedal, a Boss Metal Zone distortion pedal, a pedal made by either Dunlop or D.O.D., a fake Leslie cabinet processor (it gives a rotating speker effect) that he uses on die eier von satan, a Boss effects processor or a Zoom 505, and a Boss Flanger on most songs. Adam puts the Flanger before his distortion in the signal path rather than in the amp's effects loop.
Cabinets ??

Adam Jones is the creative mind behind the amazing guitar riffs and the intense videos of Tool. Ironically, he seems more comfortable as an artist than as a musician.

Adam is originally from Illinois, and played violin in elementary school. He was accepted into the Suzuki program, and continued to play violin through his freshman year in high school. He then played a stand up bass for three years in an orchestra.

In addition to playing in an orchestra, Adam played bass in a band called Electric Sheep with Tom Morello of Rage Against the Machine in high school (Libertyville), and while he never received traditional guitar lessons, they learned from each other. Adam also studied film. Adam recieved a music scholarship to go to college, but chose to go to art school instead.

Adam went to school at the Hollywood Makeup Academy. He began by learning "straight make-up," because he thought it would help him out. He then began work as a sculptor and special effects designer where he learned the stop-motion camera techniques he would later apply in Tool's videos Sober, Prison Sex, Stinkfist, and Aenema.

After he graduated, he went to work at Rick Lazzarini's "The Character Shop." He was there for quite a while, 1-2 years, and worked on a TV show called "Monsters." He designed and fabricated a Grim Reaper makeup and a Zombie head on a spike (later used in Ghostbusters 2.) he worked on several commercials, and was one of the designers. He worked on a salad dressing commercial (it was never aired), Olympic stain (Albert Einstein makeups), Duracell (Boxers and Taxi cabs), Nightmare on Elm Street Part 5 (He did the Fredy Kreuger in the womb makeup), and Ghostbusters 2. At that time, Adam had a pet chameleon and a Great Dane. After that, he went to Stan Winston's. There he worked on Predator 2, where he sculpted a unique looking skull for the Predator's space ship interior.

Adam worked on several other big films in Hollywood doing makeup and set design, including Jurassic Park and Terminator 2. He also helped Green Jello with their costumes.

Adam is a great drawer, and is brilliant at charicatures. He is a big Devo fan. He used to skateboard and had an empty pool in front of the house he rented.